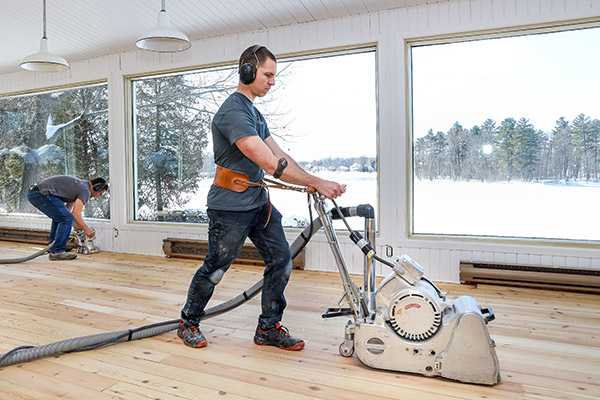 Floor sanding
The team from LES PLANCHERS GUY BÉDARD et FILS do sanding of residential, commercial and institutional floors. We can sand all types of floors, whether hardwood or soft wood, traditional or exotic species.
Our dust-free sanding service is performed with a belt sander as well as professional grade power sanders and polishers. The surface is sanded with great precision in the direction of the grain, so as not to remove too much thickness and to perform uniform sanding.
After sanding your hardwood floor, we polish the entire surface before applying 3 layers of either a clear or coloured varnish (of your choice).
It is worth noting that a hardwood floor can be sanded several times throughout its lifespan. After a few years, your hardwood floor wears out, turns yellow and becomes covered with scratches, stains and dents that can take away its beauty. But it's possible to restore the original beauty of your floor thanks to our professional sanding and varnishing.
Our team can also refresh your hardwood floor without having to sand it completely. Only scratches and dents are sanded using a special process, then a varnish is applied to the entire surface of the floor, which brings it back to new at a lower cost.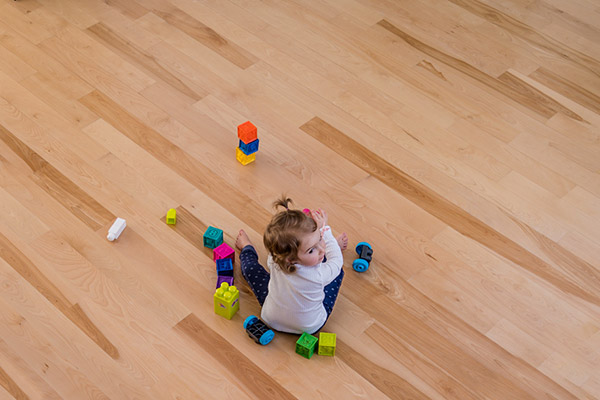 Varnishing a floor
After sanding your residential or commercial wood floor to perfection, our team will apply 3 coats of a high-performance, quick-drying protective varnish onto it. We use, among other things, Vermeister brand eco-friendly varnishes. We are among the first companies in Quebec to offer the Zero Concept series, which contains no solvents and has very low emissions of volatile organic compounds (VOCs).
These varnishes are safe for both health and the environment, while still being very resistant. They can even be used in high-traffic public institutions. These varnishes magnify the natural colour of the wood essence and enhance the veins, while waterproofing the surface and protecting it from scrapes and scratches.
Our team can also stain and varnish your floor in a single operation, thanks to a varnish colouring based on modified vegetable oils. A vast range of colours are available to you.
We can also refresh your floor without having to sand it. We remove the scratches by a special process, and then apply a varnish over the entire surface, which instantly and cost-effectively returns your floor to new.
For the lovers of oiled wooden floors, we can replace the varnish with oil, which will provide a matte and natural finish. The oil will also bring out the veins of the wood as well as the richness of its colour.